Michigan Cannabis Banking
Operating a provisioning center or grow in Michigan? Access financial services for cannabis businesses from Abaca.
Abaca is an end-to-end banking, payments and treasury management provider purpose-built for the cannabis industry. Never struggle to find banking for your cannabis business in Michigan again. With Abaca and its partner financial institutions, you will rest assured in your access to compliant cannabis banking.
Compliant, Dedicated Cannabis Banking in Michigan
Have you heard of medical and recreational cannabis businesses struggling to find stable, hassle-free financial services in Michigan? It hinders cannabis businesses from the UP to Detroit. Abaca is a fintech company addressing the banking problem head-on by developing tech and partnerships to provide banking services to Michigan's cannabis industry.
Abaca has moved past "420-friendly" banking because that often means low technology and unnecessary compliance burdens. The cannabis industry has evolved. And the financial solutions at its disposal have too. Abaca is purpose-built to make cannabis banking easy, and we are dedicated to improving financial services for cannabis businesses.
Secure FDIC-insured commercial bank accounts
Streamlined financial compliance
Complete visibility across all your accounts
Multi-person and multi-team permissions
Custom reporting
Account alerts to text and email
Real-time cash position visibility
Cash transportation and pickup throughout Michigan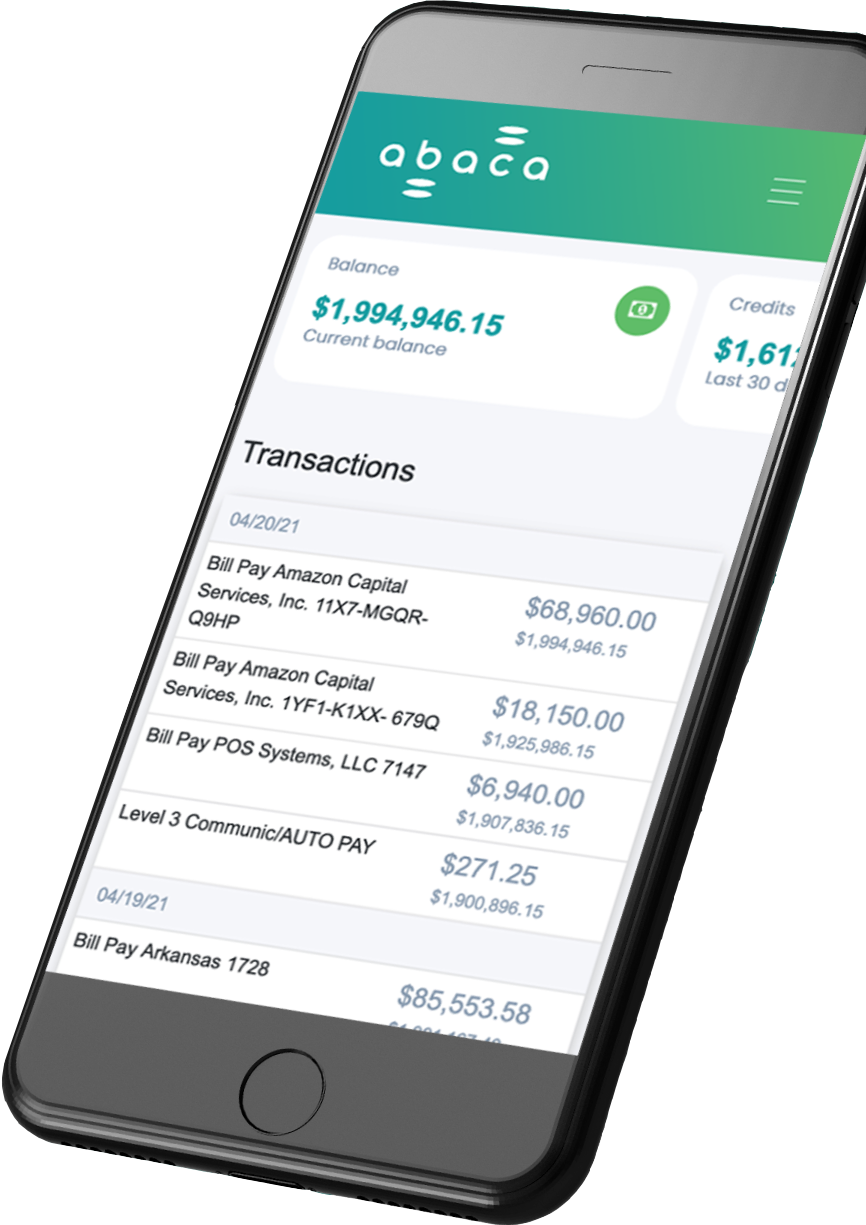 Safe, Stable, Compliant Cannabis Banking
Michigan cannabis companies can rest assured Abaca
is operating under the highest level of compliance.
Our compliance team tracks all federal guidance and legislative efforts,
including the SAFE Banking Act. Abaca's ongoing monitoring tracks all
federal and state laws that are important to the Michigan cannabis
market regarding adult-use cannabis and medical marijuana.
Abaca's tech-powered platform and partnerships are built with compliance
and regulatory issues in mind so we will be ready and nimble to evolve
with the industry when measures like the SAFE Banking Act progress.
It's not a matter of if, it's a matter of when full federal legalization
will occur. Abaca stands ready to offer services as the cannabis industry
in Michigan steps into the future. Plus, Abaca is SOC 2 compliant,
so you know your money and data are safe with Abaca.
Abaca's End-to-End Solution for Small Businesses and MSOs
ACH
Fraud detection
Billpay
Payment terminal solutions
Mobile payment solutions
Integrated Smart safes and cash recyclers
Real-time cash position visibility
Secure cash in transit throughout Michigan
Favorable terms to fit your position
Personalized service to meet your goals
"Banking with Abaca has made issuing and receiving payments easy with options for old school and electronic payments. Receiving payments from dispensaries and paying our vendors is so easy."
ROBERT DEBIN | President | Natural State Medicinals
"You would think ancillary businesses in the cannabis industry would have an easier time getting a bank account, but that is not the case. Abaca has enabled our testing lab to access traditional banking. Abaca enables my cultivator customers to pay electronically, and not with cash. We love their web interface."
BRANDON THORNTON | Chief Executive Officer | Steep Hill Arkansas
"Great company providing absolutely critical service at super competitive prices in an underserved industry."
ROBBIN RAHMAN | Attorney, Of Counsel | Barber Law Firm
"The folks at Abaca are always quick to help us solve our payment issues and provide assistance to improve our process."
DAVID TRAYLOR | Chief Financial Officer | Bold Cultivation
Abaca is a financial technology company that provides banking services in partnership with chartered financial institutions, Members FDIC.